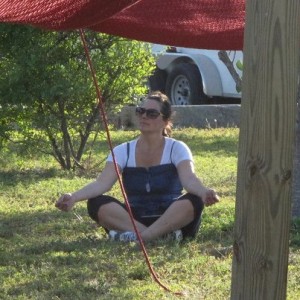 Walking around Queens College lately, students may have noticed contemporary works of art decorating the campus, like the worm outside of Klapper Hall or the black drapings outside Campbell Dome.
These pieces of art are accredited to Thea Lanzisero, a professor in the Master of Fine Arts program in creative writing and literary translation at QC, who recently held an exhibition in Klapper Hall.
"Her best work reflects a transition from single object orientation to a broader based theme and ideology reflecting issues that concern us all, like global warming, genetic engineering and factory farming," said Tyrone Mitchell, a professor at QC who instructed Lanzisero in her public artwork.
Growing up in New York, as early as kindergarten, Lanzisero told her parents she wanted to be an artist when she grew up. She completed her Bachelor of Fine Arts degree at SUNY Purchase and continued creating art as she started her own family.
"Being an artist is a very unique thing for each person, every path is different," she said. "I guess I decided my own path and followed it."
Lanzisero described a bamboo installation — that was later removed due to weather conditions — put up outside Klapper Hall last year. The piece was meant to be very interactive; students who passed by it were invited to help construct it by weaving bamboo poles and braiding large rope together.
Though she was trained as a painter and spent many years creating life drawings — drawings of nude models — Lanzisero said she was always interested in sculptural form.
Her MFA show "Unearth," was inspired by human interaction into the natural world. The flow of the exhibit starts in nature then separates the viewer from those sights and smells, emotionally and physically.
"It was meant to question one's value systems regarding nature, science and money," she said.
Lanzisero also said Dr. Seuss' "The Lorax," whose main character stood up to speak for the trees since they could not speak for themselves, was a childhood memory that inspired her exhibition of "Tree Ghosts," a group of hanging sewn burlap forms that one must walk through to move into the rest of the space.
"Overall, my work has been inspired by the natural world and balance of opposites," Lanzisero said. "I am interested in forms that have a visceral experience, leaving a viewer with a feeling of emotion or a gut reaction."
All of Lanzisero's pieces try to pose questions, including her work "Land Value," in which cartoon-like money bags were filled with rich soil and spread onto the ground. She said it asked the question of how banks feel about land.
"It has not always been an easy task, but Thea has stuck to her guns and worked things through to a wonderful outcome," said Mitchell. "Her skill and directness as a communicator has been an asset to the art department."