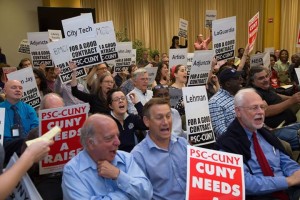 With New York City Mayor Bill de Blasio agreeing on new contracts with city unions, professors in CUNY wonder when they are able to work out an agreement.
Since no progress was made under former Mayor Michael Bloomberg and his administration, professors and staff members are working based on the expired agreement. The last contract expired in 2010.
The Professional Staff Congress, which represents all faculty and staff members throughout the university, has been in negotiations with the CUNY administration since the summer. Fran Clark, communications coordinator for the PSC, said negotiations were going well.
"Our negotiation committee has expressed they've been productive. But, until CUNY can put money on the table, a number of issues cannot be decided," Clark said.
Amid the negotiations, one demand raised by professors within the union is a minimum of $5,000 per three-credit course each semester. A petition, first circulated by members of the CUNY Adjunct Project, demanding this as a part of the contract, received more than 500 signatures from faculty members.
The CUNY Adjunct Project was created in 1994 by doctorate students at the CUNY Graduate Center. It advocates on behalf of adjunct professors and works with the PSC on issues pertaining to its members. In fact, members of the organization are also a part of the PSC.
Jennifer Chancellor, a coordinator for Organization and Planning with the CUNY Adjunct Project, highlighted how 60 to 70 percent of classes taught throughout CUNY were by adjunct professors. With an expired contract and the cost of living rising in New York City, the demand for $5,000 minimum per course would be reasonable.
"Some people say it is asking for too much, but I would say it is not asking for too much. It is asking for a living wage," Chancellor said.
To live in Queens County, N.Y., according to MIT's Living Wage Calculator, one adult would need to make $12.75 per hour for 2080 hours a year. For two adults and one child, they would need to make $20.13 per hour.
Currently, on average, CUNY pays around $2,700 per course. For office hours, professors must be teaching two courses or more to be paid for holding office hours.
Chancellor is currently a Writing Fellow at Bronx Community College, yet previously taught English at the Borough of Manhattan Community College. She enjoyed the experience in helping students, but felt limited as a result of an expired contract. She referred to the millions invested in CUNYfirst that she believed proved the administration could provide help to professors.
"If they can spend that amount on a bad program, then they certainly have the money to pay the vast amount of people who teach at CUNY," she said.
Earlier this year, since the PSC is a part of the American Federation of Teachers union, the AFT passed a resolution for its affiliates to not only petition for the $5,000 minimum course wage, but also for other benefits such as easier access to unemployment benefits and health insurance.
Clark mentioned how it was in the minds of negotiators and agreed adjuncts should be paid more.
"The PSC supports that organizing goal and that aspiration. The demand we're negotiating in this contract negotiation is for job security and parity [with tenured professors]," Clark said.
On Sept. 29, more than 1,000 professors and staff members demonstrated outside the CUNY board of trustees meeting and even went inside. In his first speech to the board for the academic year, Chancellor James Milliken emphasized the importance of providing benefits to not only assist faculty members, but retain them as well.
"There is no question our faculty and staff are entitled to raises and that this is a high priority for [CUNY]. That is a priority that we will continue to work on in consultation with leadership in the city and the state," Milliken said.
Chancellor mentioned how the demand for $5,000 was not the only issue professors were raising as paid sick leave and job security were just two examples of additional demands by professors. Still, she stressed how important it was for a new contract to be signed.
"We can't wait," Chancellor said. "We just can't wait."