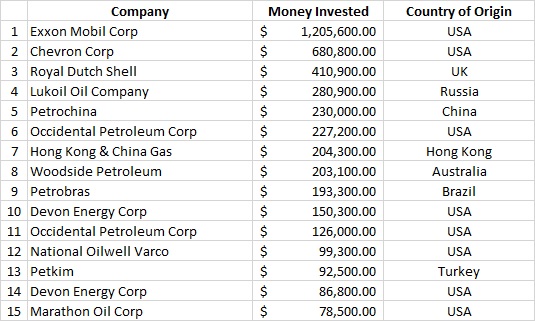 CUNY invested more than $4.9 million last year in fossil fuel companies such as ExxonMobil, Chevron and Royal Dutch Shell, according to documents provided by CUNY Prison Divest obtained through the Freedom of Information Act.
CUNY Divest, a student-led organization founded in spring 2013, is pushing CUNY to divest from fossil fuels. The group uses methods to pressure CUNY to divest on social media and hosts regular meetings throughout CUNY to spread their message.
Dan Asselin, a Brooklyn College alum and a founder of the CUNY Divest campaign, explained the group formed at a march in Washington D.C. two years ago.
"A handful of CUNY students and alumni had been involved in Forward On Climate action in Washington D.C. [in late 2013] and we were eager to stay involved in the fight. With a little help from 350.org, we linked up with representatives from different CUNY campuses and started having regular meetings," Asselin said.
Ian Trupin, an organizer with the Responsible Endowments Coalition, currently works with the CUNY Divest campaign and spoke about what divestment is.
"Divestment means disposing of financial assets like stock. A divestment campaign typically pushes institutions or individuals to divest from investments in certain companies for political or moral reasons. This may take varying amounts of time, depending on how complicated the investments that are being targeted," Trupin said.
The REC is an organization working with students and faculty to ensure "the investment and use of endowments promotes sustainability, equity, human rights, democracy and prosperity for all."
From Harvard to Yale and now CUNY, students at universities around the U.S. are pushing for divestment from fossil fuels through protests, sit-ins, petitions and flyers exposing how much is being invested.
CUNY Divest, in spite of a small core membership, built a network of hundreds of supporters and allies, including the University State Senate.
The USS, founded in 1972, is a student-led body representing students across CUNY campuses. In the past, they passed resolutions supporting divestment from fossil fuels with the most recent vote held last September.
In addition, CUNY Prison Divest – a student-led group pushing for divestment from private prisons – was praised by Denise Lescano, a CUNY Divest organizer and Baruch College student, as an ally for their campaign.
"We recently met with CUNY Prison Divest and have become great allies of each other's campaigns. We hope to continue supporting each other in any way we can," Lescano said.
Although both campaigns stand for separate issues, we both agree that we need to expose the hypocrisy between CUNY's values and their investments."
Divestment would be symbolic, said Dr. George Hendrey, chairperson of the Queens College's School of Earth and Environmental Science.
"[It would] send a signal that CUNY understands the issue of climate change and is on the side of science and humanity," Hendrey said.
Climate change refers to abnormal changes in the Earth's climate. The Intergovernmental Panel on Climate Change continues to warn of "severe, pervasive and irreversible impacts" should greenhouse gas emissions continue to increase.
"Ninety-seven percent of climate scientists concluded human-caused climate change is happening," reported the American Association for the Advancement of Science in a recent publication.
Moreover, a study conducted earlier this year in Nature found a third of oil reserves, half of natural gas reserves and more than 80 percent of coal reserves would need to remain in the ground "from 2010 to 2050 in order" to keep global temperatures from radically rising more than 2 degrees Celsius.
Hendrey noted how CUNY recently invested in new technologies utilizing alternative energy. Although divestment and reinvestment in green companies would accomplish even more, he said.
"CUNY has a policy to increase its 'greenness.' They are investing in photovoltaic energy systems, so using these resources to invest in photovoltaic companies or other 'green' businesses would be a positive move," Hendrey said.
Trupin said the director of the CUNY board holds the final say on divestment and explained how it could be accomplished.
"If a university directly owns stock in a set of companies that it wants to divest, then it can sell those stock fairly quickly on the stock market," Trupin said. "The university adopts a negative screen or an official policy not to reinvest in that kind of company, in order to make the divestment permanent. Lastly, students and others may successfully push the university to reinvest the money in new investments that addresses the harms done by the original investment."
CUNY currently invests the most in ExxonMobil with more than $1.2 million. Rex Tillerson, the CEO of ExxonMobil, told journalist Charlie Rose in an interview for Bloomberg how important it was for the firm to increase revenues.
"My philosophy is to make money. If I can drill and make money, then that's what I want to do. For us, it's about making quality investments for our shareholders," Tillerson said.
When The Knight News previously asked Michael Arena, director for communications and marketing for CUNY, about the universities' investments in private prisons, he explained how the funds were used to finance scholarships. Lescano, meanwhile, respected CUNY's stance, yet questioned the use of stocks held in fossil fuel companies.
"The institution claims to be leaders in sustainability in New York State and a provider of accessible higher education, but are invested in energy companies that go against these leadership values, especially for an institution that states their investments are used 'for the benefit of future generations of students,'" Lescano said.
CUNY Divest held a major rally last April on Earth Day, where city officials, students, faculty and supporters demanded CUNY Chancellor James Milliken take a stand on divestment.
Lescano stressed the importance of divestment in the context of climate change's consequences.
"The current rate of our fossil fuel consumption is creating a climate imbalance to our planet. As our planet's ecosystem is trying to adjust to this imbalance, civilizations around the world are suffering in the process. If we do not stop our addiction to fossil fuels, eventually all of human civilization will be in jeopardy, including us here in New York City," Lescano said.