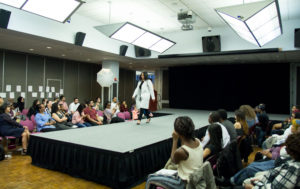 The Center for Ethnic, Racial and Religious Understanding's Social Identity Fashion Show took place on April 13 in the Student Union Ballroom where stereotypes were broken and minds were opened.
CERRU is a non-partisan organization created in 2009 that provides services for both the campus and the community to discuss and surpass alienating issues.
They assist students and faculty to approach differences with an open mind and to handle issues with understanding. CERRU hosts events and investigates numerous outlooks on controversial issues, perspectives, social matters and diversity.
Food and beverages were provided as well as a DJ. The environment provided a sense of welcoming and entertainment for the audience.
This year's show featured sixteen models whose identities include Bengali, Chinese, Latino, Pakistani, Christian, Jewish, Muslim and US military veteran. The Queens College Textiles and Apparel Program, the Queens College community, members from the Queensboro Hill Flushing Civic Association and even some of the models themselves created the models' looks.
Each model walked the runway twice with a different look each time. The first look represented an assumption that people usually make of them based on their backgrounds, appearances, cultures and first impressions. The models' second look styled and represented how they see themselves as well as their actual social identities, conflicts and personal beliefs.
Anastacia Pal, a junior political science major, admired the concept of the models wearing two looks.
"I think it makes a huge statement on how society creates false assumptions about someone based on their appearance. What is crucial is the core of one's character, not their appearance. It was an incredible experience sitting in the audience watching the models express themselves in ways others may not see," Pal said.
The fashion show also contained performances from QC students. Dance routines and musical performances offered the audience cultural entertainment.
After the show, a select few models sat and answered questions from the audience. Several questions required the models to express how they felt about the show as well as how they feel about the stereotypes they are affiliated with. They described the looks they personally designed themselves and how they think they present themselves.
Emmanuel Mensah, a junior media studies major, said the fashion show gave him a better understanding of diversity overall.
"I love how they brought awareness and diversity into one. It gave me a better understanding of where the models were coming from when some of them talked about how they embraced their culture in the show. It's a great way to beat the stereotypes," Mensah said.
The MC of the event, Michele Jackson, a senior political science and philosophy major, has a strong passion for raising awareness in racial and social identity.
"Being the MC was an incredible experience. I got the opportunity to speak to some of the models one-on-one backstage. Having been a model two years ago, it was amazing to see and feel their energy, and learn their stories about their social identity," Jackson said.
For more information on CERRU and their events, visit www.cerru.org.