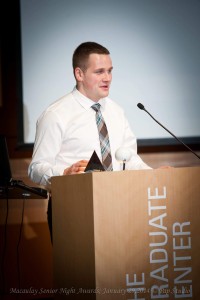 Queens College Macaulay Honors graduates were among the 2014-2015 recipients for the highly competitive Fulbright U.S. Student Program.
The program is the largest U.S. exchange program offering grant opportunities for students and young professionals. Once inducted, students participate in international graduate study, advanced research, university teaching and primary and secondary school teaching worldwide.
"It's a wonderful program that allows students to be immersed in another culture and allows them to devote full time to a research project, earning a master's degree or teaching English overseas." Moira E. Egan, national fellowships advisor at QC, said.  "Students serve as ambassadors for the us. Through academic and cultural exchange, Fulbright's mission is to increase international understanding and fosters American students' knowledge of other countries."
Karla Padawer Solomon and Chloe Weiser won Fulbright awards in the Master's Institutions category.
Solomon, a psychology major who volunteered with the New York Deaf-Blind Collaborative -dedicated to improving services for deaf-blind youth – now resides in Spain. Weiser, an English and anthropology major, who tutored for four years at Queens College's Writing Center, is in the Czech Republic.
Both are spending 10 months abroad promoting cultural exchange and language skills.
In addition, the program awards approximately 1,900 grants annually in all fields of study and operates in more than 140 countries worldwide.
Patryk Perkowski, last year's class valedictorian, also won a Fulbright grant, but turned it down when he was offered a job at the Federal Reserve Bank in San Francisco.
"I knew I wanted to become a professor, but I wasn't ready for grad school yet. I thought it would be beneficial to take some time off after graduation," Perkowski said.
Perkowski majored in economics and mathematics while at QC. Currently, he works as a research associate at the Federal Reserve, which he enjoys.
"As a research associate I assist economists in producing academic research and monetary policy tasks. It was a tough decision to pick between both opportunities but my position at the Federal Reserve gives me so much insight of what it truly means to be an economist," Perkowski said.
"The job prepared me for the major commitment and dedication required to obtain a PhD. From this experience I know I really want to be an economist."
Like most competitive scholarship programs, a strenuous application process is required.
"The application process was time consuming," Perkowski said. "There are two intensive personal statement essays with strict word count limits. You also need three letters of recommendation and responses to a number of short answer questions."
Fortunately for QC students, Egan assists students in all aspects of the application process.
"I work with students to help them identify which fellowships might be good for them to apply for and also assist with the application process," Egan said. "I advise them on their essays and about choosing recommendations so that their academic and work history fully addresses the fellowship's requirements."
In addition to helping students find financial support for their education, the Office of Honors and Scholarships, located in Honors Hall Room 16, provides advisement for honors programs and merit-based awards.
An information session on the Fulbright program will take place on March 30 during Free Hour in Honors Hall Room 17.