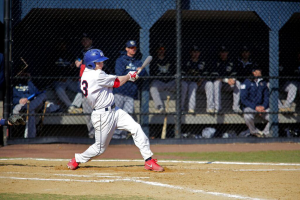 Queens College men's baseball team began their season Feb. 25 with an 11-10 defeat against Dominican College at Myrtle Beach, S.C.
The Knights entered the season looking to improve from last season, when they finished with a record 13-22.
Head coach Chris Reardon, in his third season as coach, is impressed with the team's performance so far.
"We've had pretty good starting pitching and the bullpen has been really solid. Our hitting has been pretty consistent, and we've faced some pretty good competition to this point. Even though we've had a below .500 record, we've been in most of the games. Our opponents to this point have been regionally ranked so it's been challenging," Reardon said.
One of the team's weaknesses is winning close games. Five out of the team's 10 losses have been by two home runs or less.
"When you face really good pitching you have to find ways to score runs. You have to be better at doing the little things and I think if we had some better execution earlier in the season we could have won a few of those games that we lost. It just comes down to being able to get hits with guys in scoring position and two outs. We've struggled to execute situational hitting," Reardon said.
But, in games tied in late innings, the Knights have shown mental toughness. They beat Stonehill College on Feb. 26 and Southern Connecticut State University on March 12 with walk-off wins.
"One thing about this team is they've shown tremendous heart and toughness in terms of being able to stay in games. We've been down, came back and won," Reardon said.
Against Southern Connecticut, in another game March 13, sophomore Thomas Parish began a rally with a single. Junior Jorge Ruiz hit a double and scored a run, tying the game. An error led Ruiz to score, giving the team a victory. Ruiz pitched in the last inning, striking out two batters to give the Knights the victory.
"We won on a suicide squeeze. We've been very resilient. Everyone has shown an ability to contribute in some way," Reardon said.
Kevin Kolesar, a junior who plays shortstop, put up impressive numbers this season. He ranks second in the East Coast Conference with a battling average of .397 through 15 games.
Kolesar leads the team with 58 at-bats, 23 hits, 12 runs batted in, 11 stolen bases .470 on-base percentage so far.
"In baseball, you don't want to do too much you just want to try and stay within yourself and Kolesar does a great job of that," Reardon said. "He doesn't allow the pitcher to get him out. He's aggressive; he's balanced and stays composed. He has a lot of good characteristics that a baseball player is going to have."
John Dondero, a junior, is the pitcher for the team. The last time he played for the team was March 7, 2014 against Franklin Pierce.
Dondero felt a sharp discomfort in his elbow during warm-ups. He continued to play for a month until it became unbearable. He required Tommy John Surgery, where a ligament in the arm is replaced with a tendon.
After a year of rehabilitation, he returned in a game against Dominican, he pitched for six innings, allowing one earned run and striking out five batters.
"I feel pretty good. I can feel the difference from how I felt pre-surgery. I guess its part of the recovery process. Some days my arm feels normal and some days it doesn't," Dondero said.
The team looks to finish their season strong since 21 out of 31 games left are against conference opponents.
"Baseball is a game of failure; you're going to fail more often than you're going to be successful especially from a hitting standpoint. You have to know what you're capable of doing. [Our] goals right now are just win as many games as we can, be competitive and hopefully we can continue to do the good things," Reardon said.
Their next game is against Bridgeport on March 30.