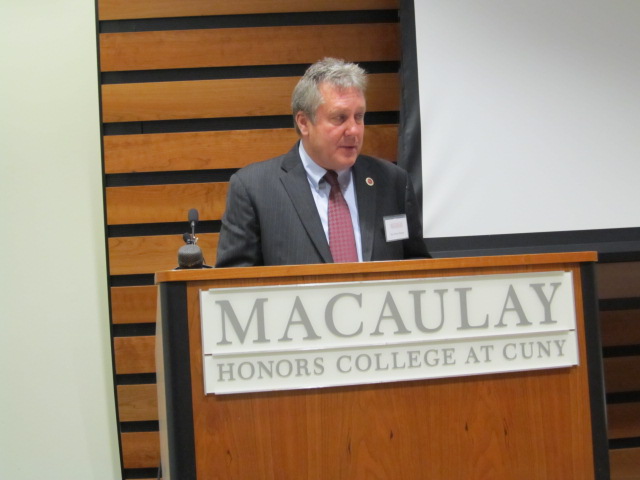 Students from Macaulay Honors College played host to a conference on immigration reform in collaboration with Arizona State University on Sept. 28.
The conference — co-conceived and created by Barrett, the honors program at ASU, and Macaulay, CUNY's honors program — was considered the action conference after an initial awareness session in Arizona.
As a state, New York — at an estimated 489,000 — houses the third highest amount of undocumented immigrants, after California and Texas. CUNY estimates 4,500 as students in the CUNY system.
"One of the greatest challenges facing our society is how to take advantage of and direct the dynamism brought by immigrant cultures," Macaulay Dean Ann Kirschner said, after citing Arizona and New York as two states largely affected by immigration.
After an opening address by Kirschner — whose mother immigrated to New York after five years spent in a Nazi concentration camp — Daniel Dromm, NYC councilman and chair of the city's immigration committee, spoke.
Families without proper papers face almost insurmountable odds when it comes to helping their children succeed, Dromm said. Due to this, Dromm feels a social and moral obligation to assist undocumented individuals.
He will continue his work until "dreamers can be put on a path to lawful residency and eventual citizenship."
Currently, undocumented students can apply to and attend CUNY schools and pay in-state tuition rates. They are also eligible for the Macaulay scholarship, though they have none of the papers and documentation usually required for university attendance and scholarships.
A lunch break at the conference featured an audio booth playing interviews with current undocumented CUNY students. Of the students featured was a senior at City College studying graphic design. He came here from Hong Kong when he was nearly 3 and half years old and his parents never brought him back after his visa expired.
"Some of my undocumented friends are the most motivated and competent people I know and I think that came from knowing what they don't have and what they don't have access to," he said, over the speakers in the audio booth.
Another personal narrative featured a student whose parents have degrees from universities in their home country and yet work here cleaning and constructing houses.
The interviews — done with undocumented students throughout the CUNY system — were handled by the CUNY side of the program. But among the approximately 60 attendees at the conference, 11 were students from Arizona accompanied by a number of lecturers from ASU.
On Sept. 5, the federal court upheld the Arizona's SB 1070 state law allowing authorities to check the papers of any person they suspect isn't legal. Dr. Carlos Ovando of ASU referred to this as institutionalized racism.
As he spoke, undocumented immigrants also spoke to attendees.
"It was really heartbreaking to hear the stories in the second panel for the day. Each of the girls presenting — all girls around our age — began to cry when telling their story," Queens College junior, Nicole Nowbahar said.
Hearing them speak, she said, turned the concept of the issue into a reality.