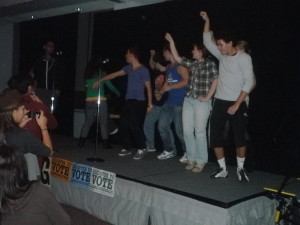 Throughout the semester, the Queens College chapter of the New York Public Interest Research Group registered 1,700 new voters out of the 30,000 the organization registered statewide.
One of its biggest voter recruitment events was National Voter Registration Day on Sept. 25. NYPIRG, along with other CUNY schools in all five boroughs, took to the streets to register voters.
Setting up a stand at subway stations on Roosevelt Avenue in Jackson Heights from 7 a.m. to 7 p.m., NYPIRG managed to reach out to several QC students and registered thousands of community members.
"We had people rushing past us at 8 a.m. to get to work but on their way home — around 5 p.m. — they would stop and talk to us, which was great," NYPIRG project coordinator, Jaqi Cohen said. "It wasn't just empowering students; we were empowering members of the community as well. We had people who couldn't speak English coming up to the table and we had forms for them in different languages so they could sign up."
Alex Reichl, associate professor of political science, believes voting can be essential for students' futures.
"In the most direct sense, it is important for students to vote because elected officials see the world in terms of groups and they are unlikely to be attentive to the needs of students if they don't expect to be held accountable," Reichl said. "At a more personal level, voting is a way for people to take ownership of our country, which is what democracy is all about."
The 26th Amendment of the Constitution gives voting rights to anyone over the age of 18.
"When you don't vote, you're giving the power to someone that doesn't represent you. The only person that should represent you is yourself," Cohen said. "Students should be afraid that other people will make huge decisions for them, they should have control over who represents them and by voting you have some power in that, which is cool."
Voter registration at QC came to an end on Oct. 11 when NYPIRG hosted Rock the Vote — an open mic night — in the Student Union. The event was designed to bring together students who supported voter registration as well as provide information and last minute registration for other students.
"I think it's important to vote because I think if we can work together we can make a difference," senior, Sara Iqbal said.
Rock the Vote also featured live musical performances by several students. Attendance was not limited to QC students. Kathleen Jordan, a senior and chairperson of NYPIRG at Brooklyn College, showed her support and belted out a rendition of "Cockeyed Optimist" from the musical, "South Pacific."
"This was an important celebration of our right to vote," Jordan said. "We [young voters] are historically underrepresented at the polls. Making voting interesting, fun and relatable helps get students out to vote."