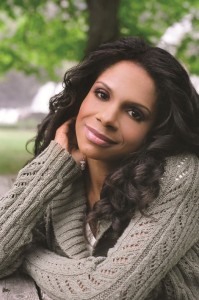 Tony-award winning actress Audra McDonald entertained an audience with a night of musical theatre, jazz standards and intriguing anecdotes on Oct. 5 in Colden Auditorium as part of her nation-wide concert tour.
McDonald is best known for her Broadway career in acclaimed musicals such as "Ragtime," "A Raisin in the Sun" and the 2012 revival of "Porgy and Bess." She also graced the small screen in the "Grey's Anatomy" spin-off "Private Practice" and guest appearances on "Law and Order: SVU" and "The Good Wife."
The concert contained a wide range of music covering many different genres. The Juliard alumnae's soprano was highlighted by classics from Gershwin, Irving Berlin and Frederick Loewe, along with contemporary pieces from Jason Robert Brown and duo Goldrich and Heisler. She even included a sidesplitting take on German lieder entitled "Craiglistlieder," with memorable lyrics, "You looked sexy even though you were having a seizure."
The large concert space was no problem for McDonald, as she seemed to perform each song with purpose and elaboration, while sharing personal anecdotes before each song.
She shared stories of motherhood, entertaining the audience with stories of her young daughter telling her, "Mommy, your singing makes my ears cry." From there she shared her worries of being a traveling mother with "The Glamorous Life" — a song from Stephen Sondheim's "A Little Night Music" telling a similar tale.
The singer struck emotional heartstrings paying homage to her late father in Adam Guettlel's "Migratory V." She particularly touched the hearts of the audience of New Yorkers with "I'll Be There," a piece from Adam Gwon's "Ordinary Days," discussing the losses of Sept. 11.
In another emotional segment of the concert she told the story of "The Scottsboro Trials," where in 1931 nine African American boys were falsely accused of raping two white females in Alabama and eventually sentenced to death. The case inspired Kander and Ebb's musical "The Scottsboro Boys." McDonald took on the emotional song "Go Back Home," in which the boys sit in jail longing for the lives they left behind.
Audra McDonald was able to move the audience with her voice, showcasing her talent as a great performer and artist.