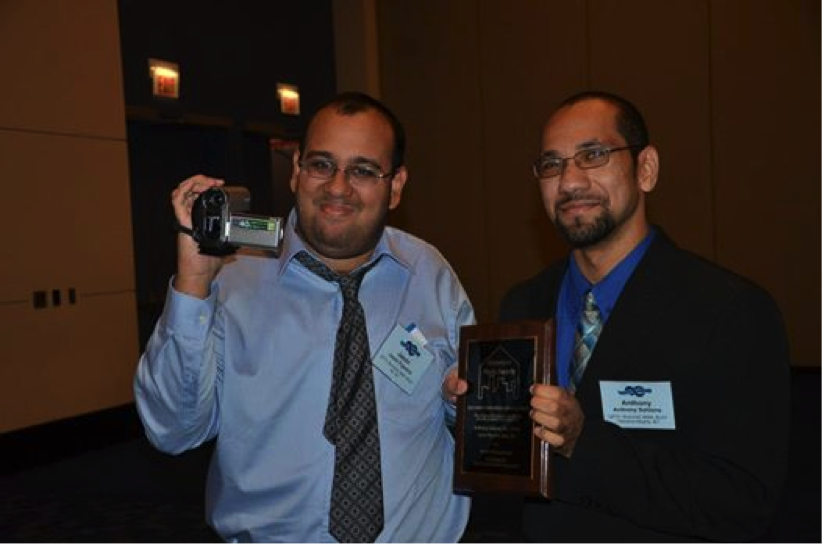 Queens College alumni Jason Figueira and Anthony Saldana received three Telly Awards this past summer for their short documentary titled "Access: Democracy in a Digital Age."
With 12,000 entries from all 50 states and other countries, Figueira, director and producer, and Saldana, producer, won the Bronze award.
The Tellys honor film and video productions, online content as well as local, regional and cable television commercials and programs.
"Access: Democracy in a Digital Age" is a short documentary about the history of public access television. It aired in 2011 on numerous local stations in NYC and Chicago.
Figueira and Saldana realized their friendship was an integral and essential part of their awards and professional success. Now, as they emerge as consolidated and recognized filmmakers in the industry, they look ahead to their future with confidence and optimism.
The filmmakers met in a cafeteria on campus in 2004 and became friends after discovering that they shared similar passions and values.
"We would take media classes together and serve on the board of Catholic Newman Club. Since graduating in 2008, Jason has been a big support system in my career thus far," Saldana said. They also attribute their education at QC to their success in filmmaking. The two agreed their professors had a lasting influence on their career path.
"The education I received from QC was life changing, especially in my senior year when I decided to take television production classes," Figueira said. "Before that, I was too shy to take such courses seeing as I did not have much self-confidence. However, after taking those classes, I saw that I did have the capacity to work in all phases of media from pre-production to post-production."
After graduation, life was not easy for these two filmmakers. In fact, the transition between
graduation and starting their professional careers represented a challenge in itself. Figueira described this time of his life as "extremely difficult." Although he got a MFA in Documentary from Hofstra University, he went through almost two years of unemployment while dealing with Obsessive-Compulsive Disorder.
"It took a lot of prayer and strong support from my wonderful friends, families, and doctors to make it through that time but, by God's grace, I was able to and today I have five awards to show as evidence of it," Figueira said.
During this difficult period of time, Saldana not only witnessed Figueira's struggle, but also he stuck by him with support. In 2010 he produced and directed "We're Ordinary People," a documentary about blind people with Figueira's assistance.
The two hope to share their experiences with aspiring filmmakers at QC.
"Don't be afraid to study something you love, no matter what others say. Don't be in a rush to graduate and take as many media studies, film studies, journalism and even theater classes. This is the time to learn what you like and what you don't. Show professors this is your passion," Saldana said.
Figueira believes, with our world of ever expanding technology, new stories and characters can be shared with a multitude of audiences.
Figueira's next film will be a self-portrait about his struggle with OCD while Saldana continues to work on other topics as a documentary about visually impaired artists and an audio documentary about gay and disabled activist Harry Wieder.