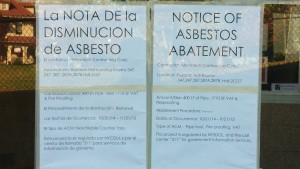 Asbestos is being removed from Razran Hall in order to prepare for physics and psychology research lab renovations. The renovations will provide improved and updated laboratory facilities and new lab equipment.
Built in 1970, Razran Hall was known as the "New Science Facility." It was renamed in 1994 for Gregory Razran, professor and former chair of the psychology department for over 20 years.
"Asbestos containing materials that would be impacted by the planned renovations must be removed by an asbestos abatement contractor prior to performing renovation work," William Graffeo, director of Environmental Health and Safety at Queens College, said.
Razran's removal will be handled by Microtech Contracting Corporation. Microtech is a full service restoration services company performing all phases of remediation and reconstruction including hazardous material removal.
In the past, asbestos was added to a variety of products to strengthen them and provide heat insulation as well as fire resistance. Buildings built between 1930 and 1950 may have used asbestos for insulation. QC was established in 1937, but the site of the campus was built in the early 19th century.
This is not the first time there has been an asbestos abatement at QC. In 2006, there were vinyl asbestos floor tiles removed from the first floor of Kiely Hall and replaced with vinyl composition tiles by New York Environmental Systems.
"New York State asbestos abatement regulations mandate that a written notice be provided. The signs posted at Razran Hall are intended to notify building occupants that an asbestos abatement project will be conducted, Graffeo said. "The notice identifies the type and quantity of materials to be removed such as 400 linear feet of pipe insulation and 1,710 square feet of vinyl asbestos tile and fireproofing materials."
Students taking classes in Razran Hall are informed of the removal by the signs posted in both English and Spanish on the front doors.
"Asbestos abatement work will be conducted between the hours of 10 p.m. to 6 a.m. and will be completed by the end of the fall semester. It will not disrupt classes in Razran Hall," Graffeo said.
Once the abatement is completed, QC will proceed with the planned laboratory renovations. Asbestos abatement work will also be conducted in the Science Building to facilitate additional laboratory renovations.