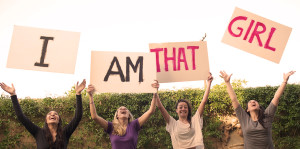 IAMTHATGIRL, a national non-profit organization, was founded in 2008 by Alexis Jones and co-founder Emily Greener to address the growing need for community amongst girls and young women by helping to build self-esteem and realize their full potential. This semester Queens College students started their own chapter of IATG.
President Monica Roman, a junior studying English and political science in addition to being a Student Fellow at the Center for Ethnic, Racial, and Religious Understanding, explained how she got involved with establishing IATG at QC.
"Late last year, I began to notice that there was a real lack of women's oriented groups on campus. Considering how Queens College is always hailed as one of the 'most diverse campuses' in the country, one of the most unifying things is gender and we felt IATG could really highlight that. So I worked with Yael, Megan, and our other eboard members over the summer to really get IATG off the ground," Roman said.
Vice President Megan Casey, a junior studying history with a concentration in human rights provided her thoughts on what she felt IATG's mission was.
"IATG is a club that provides a safe space for women on campus. It's a club for which we can raise awareness in regards to issues concerning women," she said. "When you come to club meetings, what is said is confidential and that's what creating a safe space is about. We must empower each other, support one another and feel comfortable sharing our opinions and stories."
The national chapters' sign up page includes taking a pledge, which reads "I am perfectly flawed and sublimely beautyFULL. I am a constant work in progress. I recognize that what I admire in others also exists within myself. As a member of this community, I promise to collaborate instead of compete and remind other girls of their worth when they've forgotten. I'm on a mission to turn self-doubt in to self-love, to use my voice, to share my truth, to love others, and to leave this world better than I found it."
"When I first heard about IATG, I immediately felt the need to become involved. This club is a safe space for all women to come together, regardless of ethnicity, religion, what have you and find an empowering safe space within one another," club secretary Nicole Caparelli. "I believe it is essential for all college campuses to have a place where woman can come together to support one another, and I am lucky enough to be a part of a team of talented women creating such a space here at Queens College."
Yael Rosenstock, program coordinator for CERRU and an avid supporter of IATG discussed the role she has played in getting IATG started at QC.
"I read an article about IATG and noted that it sounded like a great organization. At my old school there were a lot of women's groups and at Queens College I noticed there wasn't many. It is important to have a club like this because it provides a unified community despite being a commuter campus. Some commuter campuses can lack somewhere for you to go to feel comfortable," Rosenstock said.
Club meetings are designated for women identified persons but the events that IATG organizes are co-ed and open to anyone on campus.
"Question, Persuade, Refer", a suicide prevention training, will take place during free hour in Powdermaker Hall 154 on Dec. 8.