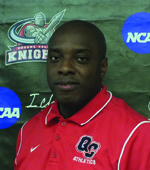 Queens College offers more than 100 clubs as well as a full athletics program with 19 varsity teams. The fact that QC is a busy place with more than 19,000 students reveals there is a major disconnect between students and student-athletes.
When students outside of athletics are asked why they did not attend a game or fundraising event, the most common response is they didn't know about it.
Kevin Williams, the new assistant athletics director of External Relations, plans to fill the gaps and mend the bond between athletics and the student body.
Williams comes from being a collegiate student-athlete, playing football at SUNY Morrisville as well as Iona College and understands the importance of sports in addition to the need to get students involved.
"I played football my whole life. [Sports] is how I learned to make friends, bond with colleagues, and helped me in my career," Williams said.
After finishing college with a degree in business administration, Williams worked for Taylor & Francis, a publishing company, for 10 years. With a desire to work in sports marketing, Williams came to QC with the hope of push the athletic program in the right direction.
"When I first walked onto campus, I knew there was a game going on, but I was unable to tell. That needs to be fixed," Williams said.
The external relations team is working on several projects in order to highlight the teams on campus and make game day more exciting.
With basketball season about to begin, they are looking to have cheerleaders greet fans, add more snacks to the concession stands and have more performances at half time.
"We want people to be engaged and we want to open the doors to kids and parents," Williams said.
The external relation team and Williams created a system called Retain, which gives students the ability to subscribe to emails about collegiate events. The first test email was sent out for the men's basketball game against Hunter College. Students who choose to receive these emails will get notifications on all home games and meets.
Not only will they be emailing students, but they will be advertising on the kiosk computers in the buildings on campus. A flash message will appear on the computer after a student logs in with any game, meet or event on campus that week.
"We want to get the word out about games beyond athletes and students with everyone on campus," Williams said.
The biggest project in the works is the women's basketball game against Immaculata University's at Madison Square Garden to honor the 40th anniversary of the first women's basketball game on Jan. 4, 2015.
Williams and his team created a "Number One Fan" competition where the winner of the raffle will get to lead the team out of the tunnel and sit on the bench at the MSG.
Williams and his team are continuing to make changes in athletics, around campus and, overall, being a QC Knight.
"Queens has such a homey feeling to it. I feel like this is just the place to be," Williams said.