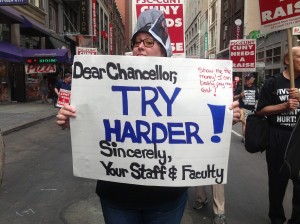 The last time CUNY faculty and staff worked with a contract? 2010. The last time they saw a pay raise? 2009.
After another year without progress in contract negotiations, the Professional Staff Congress, the union representing all CUNY staff, told its members to prepare for actions this fall—including "disruptive mass action."
Barbara Bowen, president of the PSC, wrote an email to all members on Aug. 27 about stalled negotiations and, consequently, upcoming actions for a contract. She blamed James Milliken, CUNY chancellor, for failing to "offer a single dollar for raises or back-pay" since his appointment last year.
"We have all been patient long enough. Starting on this first day of the new academic year, the union will accept no more excuses," Bowen wrote.
Actions organized by the PSC for this semester consist of a city-wide meeting with all PSC chapters and a mass sit-in in late November. Furthermore, free training sessions on non-violent civil disobedience are provided for members throughout the fall.
On Oct. 1, PSC members demonstrated in front of Milliken's Manhattan apartment at 7:30 a.m. to demand he "wake up" to a contract.
PSC members and supporters at the Labor Day Parade felt frustrated at the lack of a contract for nearly half a decade.
"It's been six years without a wage increase. It's inhumane and wrong," Michael Fabricant, first vice president of the PSC, said.
Fabricant explained Milliken's salary, which is $670,000 per year, made him accountable in getting a contract for the PSC.
"If you're getting that kind of salary, you're accountable," Fabricant said.
Milliken, at a recent meeting with the board of trustees, reassured his commitment to a new contract for facility and staff.
"[W]hile I may not need a 'reminder' or a 'wake up call', I do not begrudge our faculty and staff for providing one.  I talked to members of the faculty and staff every day and I understand what they're facing. I may not have created the circumstances that have now resulted in a contract six years out of date, but I certainly accept the responsibility for ending what is an unacceptable situation," Milliken said.
Meanwhile, District Council 37, a labor union not directly affiliated with the PSC, blamed Governor Andrew Cuomo for the lack of a contract. The Democratic governor, in spite of successfully negotiating with DC37, was not interested in "moving talks forward."
Fabricant said Cuomo could sign the Maintenance of Effort, which ensures funding for both SUNY and CUNY.
"The governor promised, when he passed SUNY 2020, which has to do with five years of tuition increases, all of the money would go toward enhancing faculty, staff and quality of education. But, because for the first time in the history of this administration, there has been no year over year salary or wage increases and maintenance of effort on pensions," Fabricant said.
The bill passed the state Senate and, after changes by state Senators, returns to the state Assembly for another vote. Still, PSC members felt Cuomo is an obstacle to obtaining a contract.
"He should be ashamed and we have to make him feel ashamed," Michelle Doney, director of the Math & Science Resource Center at John Jay College, said.
At the same time, adjuncts, which are 59 percent of faculty in CUNY, according to the CUNY Adjunct Project, are negatively affected by the lack of a contract. Indeed, some have left CUNY.
"In most cases, they don't make living wage anyway," Michael Seitz, an adjunct professor at BMCC, said.
Shamari Stewart, a senior majoring in sociology, explained the militant actions, like the PSC's, can pressure employers into negotiating a new contract.
"When laborers become militant, it puts pressure on employers and usually results in an agreement or concession of some kind. Militancy is important because it makes sure that your grievances don't go unnoticed and that you have power," Stewart said.
Furthermore, Stewart said he heard from professors about the lack of a contract and how it made "their lives a lot more stressful and difficult."
"All of the ones that said this were wonderful professors who made my experience at QC much more enjoyable and fascinating. It doesn't seem fair that these people are getting the short end of the stick," Stewart said.
Meanwhile, Doney urged students to support their professors in getting a contract.
"We need students to help us. Help us help you," Doney said.
The Governor's Office did not respond to inquiries from The Knight News.