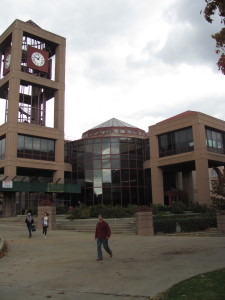 The Benjamin S. Rosenthal Library consists of six floors filled with many resources for students and faculty to use.
Specifically, the library holds over 900,000 books, 1,000 scholarly articles and 92,000 periodicals. Moreover, there are computers and study rooms available on each floor.
The Multimedia Common room, found on first floor, provides free electronic rentals for students. Out of the 15 electronics available for loan, the most popular items are digital cameras, laptops and scientific calculators.
"We offer students a variety of equipment they need. Even teachers borrow items like iPods and digital cameras for their class lectures. So we provide electronics for students and faculty who need them," David Reyes, multimedia common supervisor, said.
The rising popularity of e-books and PDF-formatted documents led Queens College to add iPads to the equipment list.
The Apple product is one of the most borrowed items. While limited to a three-day loan, students and faculty can renew it. In addition, it comes with a carrying bag, a charger and a USB cable.
A late fee of $15 is charged to a student's tuition if the person does not return the equipment on time.
"These late fees serve as an incentive for students to return the items on time. This way our stock is filled and everyone gets a chance to use our equipment," Reyes said.
When students enter the library, one of the first things they will see is the library's administration section. At the desk, students can request for an interlibrary loan, which means books and periodicals are retrieved from other CUNY schools. Students can apply for the loan on the library's website too and this takes two to three days to fulfill.
On the third floor, there is a room where students can use a selective depository for United States government publications. Documents are available either electronically or in print.
For both the fourth and fifth floor, students can use study rooms. Some unique spaces on these floors include the Presidents' Conference rooms, often used for events.
The sixth floor, known as the Art Library/Art Center, contains information about art pieces and their history. For students majoring in art, the area holds valuable art periodicals, exhibition catalogs and pictures of famous painters.
For students not on campus, the library offers online databases, newspapers and electronic journals. The New York Times, The Economist and other publications, requiring a paid subscription, are available free of charge. There are also over 23,000 e-journals and e-books available.
Anthony Harris, a senior, took advantage of the resources when researching a paper for class.
"The QC database was useful for my Business Law 2 paper. It searched through different magazines and newspapers that I was not even aware existed. I was able to use the Wall Street Journal and other resources for free through the library's database," Harris said.