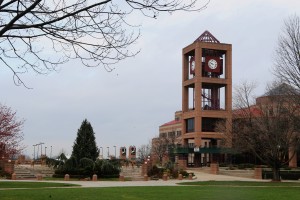 Queens College President Felix Matos Rodriguez, in his March Saludos address over email, said the college faced a budget shortfall of nearly $1 million.
"As we did at the start of the Fall 2015 semester, we have made cuts in operating budgets, slowed the pace of hiring, left some vacancies open, stepped up our efforts to increase other revenue and used soft funds to cover budget gaps," Rodriguez wrote in the email.
The shortfall was because the college did not meet its revenue goals for spring and retroactive pay for skilled trade employees at CUNY after 2008. At the same time, enrollment is increasing at QC.
Moreover, Governor Andrew Cuomo proposed earlier this year to cut $485 million from the state's budget to CUNY. New York City would cover this "shift," as Cuomo said on NY1. CUNY would face no cuts.
"I want to see more money at CUNY at the end of the day, and more money in the classroom," Cuomo said.
After months of pressure from activists and CUNY, Cuomo's office said CUNY would still receive a full budget.
But the university system still faces budgetary shortfalls after decades of falling state support.
Between 1987 and 2012, the share of revenue coming from the state fell from 69 percent to 41 percent for Queens College, according to data from the Chronicle of Higher Education. Only Baruch College suffered a bigger cut as revenue by the state fell from nearly 66 percent in 1987 to 36 percent.
Last October, Chancellor James Milliken addressed the consequences of a fall in state funding for CUNY.
"The failure to fund mandatory costs led to a required budget reduction at the senior colleges and more significant cuts at CUNY's central office," Milliken said.
There are public officials who support more funding for CUNY. Diana Richardson, a Working Family Party lawmaker in the state Assembly, is one person who likes this idea.
"The state legislature should restore full funding of CUNY to ensure continued access and affordability for all students in the State of New York. Moving forward, we must protect this vital educational system and help facilitate the rapid growth of CUNY and its programs," Richardson said.
Jim Malatras, director of state operations for Gov. Cuomo, recently announced the state would appoint a management organization expert to restructure CUNY administration.
"This will not only bring great savings to CUNY, but also [it] will look for shared services with SUNY," Malatras said in a statement.
Regardless of Cuomo's decision to not cut $485 million, tuition is still providing a bigger share of revenue for CUNY schools. Moreover, the SUNY2020 plan, enacted in 2011, raises tuition by $300 each year. In 2012, tuition was $5,130 per year for a full-time student. If tuition still increased by the same amount, students would pay $7,830 for a year in 2021.
Monika Brzostowska, a senior majoring environmental studies, said it was wrong and that tuition needed to "maintain the status quo at QC."
"The state should step up and give the necessary funding promised in the Maintenance of Effort provision in SUNY2020. Tuition dollars should be going to hiring more full-time faculty, academic advisement and not to keeping the lights," she said.
Ashley Phillips, a junior majoring in psychology, explained that the state government needs to invest more into not only CUNY, but also SUNY.
"Since this country equates success with higher education, New York State needs to step up and provide affordable education they set out to do in the beginning of CUNY and SUNY," Phillips said. "The only way to do this is make sure the campus and administration have the proper resources in the advancement of their students."