"Everybody Wants Some!!," directed by Richard Linklater, is told with the perfect touch of lightness and complexity that comes together in a terrifically fun and insightful movie.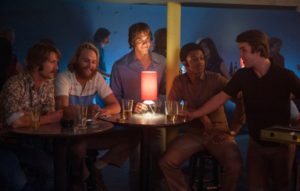 The 2016 film is told with a loose storyline that meanders in all the right directions. It is amazingly rich and has an unforgettable ensemble of characters.
"Everybody Wants Some!!" depicts the seemingly never-ending good times of a group of hard-partying college kids on a school baseball team. Set in the 80's, the film is full of short shorts, mustaches and disco.
The film is deeply nostalgic, while still seeming universal and timeless. Although this film will particularly resonate deeply with college students, "Everybody Wants Some!!" depicts the universal human experience of what if feels like to live in the carefree fleeting moments whether it be falling in love, starting a job or parenthood. This film is about the wild ride and its end that is just barely out of sight.
The story loosely follows the likable freshman Jake Bradford, played by Blake Jenner, who, three days before classes start, moves into the dorm house of the college baseball team. Despite a touching love interest that is saved for the end of the film, the movie does not have much of a plot. Rather, the storyline follows the wild antics of the hard-partying baseball team as they hit on girls, party and play ball.
These students live in a bubble, and despite their intense passion for baseball, many of them know they will not make it to the majors. They all understand that their time at college is fleeting, but they savor their time with willful ignorance inside the glorious bubble.
 The tempo of the storyline is similar to that of a college party in that there is no 'beginning' or 'end,' rather just a series of conversations and interesting glimpses into the human spirit that occur throughout the night and into the morning and then repeat.
The reason why this film is so poignant, fun and relatable is because of its masterful characterization. Although many of the characters seem like archetypal college kids like the stoner, the weirdo or the alpha, we come to see each as uniquely different yet deeply relatable.
The group dynamic of these characters also plays a major component and much of the humor, tension and insight comes from their ridiculous chummy behavior, competitive nature and shifting alliances.
An even more impressive feat is that, despite the large number of characters that hang out together throughout the film, none are ignored. The storyline drifts into small but telling moments with each character which end off painting a portrait of each character that feels both incredibly real and tender.
"Everybody Wants Some!!" is a superb film that is funny, honest and allows you to experience the good times as they wistfully roll on by.