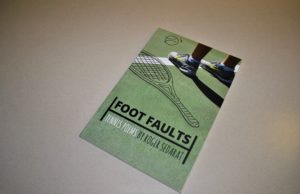 On October 19th in the Godwin-Ternbach Museum, Professor Roger Sedarat read some excerpts from his new poetry collection. The reading was a reflection not only of Professor Sedarat, but also his newest book, "Foot Faults: Tennis Poems." The book is the first ever full-length verse collection on tennis and offers a playful and informative survey of tennis in form.
Professor Sedarat made his entrance dressed in tennis gear and carrying his tennis bag. Following a mock ESPN interview with Professor Christopher Williams, Professor Sedarat unpacked his tennis bag which held both his racket and new book. As he read his first poem, "Opening a Can of Tennis Balls," Professor Sedarat opened a can of tennis balls which was a strategy he continued throughout his reading, acting out a variety of written concepts.
Professor Sedarat continued with a poem titled "Tennis," a one-word poem where its context is created solely from the letters of one word, in this case tennis. Prior to reading the poem, Professor Sedarat explained that he has been "trying to bring back the one word poem," a form he has made his students write in.
Between each poem, Professor Sedarat provided humorous commentary with background information for each of his poems. He told the audience a series of stories about topics within tennis, such as seeking revenge after losing a match, intimidation from other players and relationships created from the sport.
The theme of relationships was explored in the poem "First Snow upon Mountainside Courts," an elegy Professor Sedarat wrote for his tennis partner named Justin. Professor Sedarat shared that Justin died of a drug addiction at 38 years old, and proceeded to tell the audience a story about a time the two refused to forfeit a game of tennis. They played through a shower of rain with thunder and lightning. While Professor Sedarat said that he could never do Justin justice, he read "First Snow upon Mountainside Courts" in memory of his late tennis partner and friend.
Professor Sedarat also told the audience the story of how his love for tennis began.
"I asked my brother-in-law what he missed the most from Iran and he replied with: tennis. I randomly picked up my kid's racket and thought—where has this been all my life? I was in such a depression, and writing wouldn't get me out of it. Instead of buying a flashy car I picked up tennis." After that, both his tennis and writing career began in full swing.
Following the reading, a short question and answer session took place. When asked about how the playful tone of his writing is emblematic of poetry and tennis, Professor Sedarat responded by saying, "Poetry has to be in the spirit of play. Having fun, relaxing, and tricking yourself to keep in the spirit of creativity. After doing this, going back to the page is nothing," he answered.
When asked about the different styles of his poems and why he decided to write such a variety, Professor Sedarat responded, "Tennis is so formal, it's played in the lines, and is all about angles. Thinking about writing this, it had to be informal. I didn't want the writer to get bored, I wanted to make it entertaining."
The final question was whether Professor Sedarat had any advice for anyone who is interested in poetry. He replied, "If you're writing poetry, why fear? Do whatever you want, create your own. The young generation is making their own world and are angering critics. This is the 21st century, poetry is what you make it."
If you are interested in Professor Sedarat's new book, you can find out more about it on Amazon.