The Trump Administration announced its plan to phase out the Deferred Action for Childhood Arrival (DACA) on September 5, a decision affecting almost 800,000 immigrants including students of the Queens College community, some of whom are members of the Queens College Dream Team.
QC Dream Team was founded in 2012, as a result of the New York State Dream Act's failure, a decision affecting both documented and undocumented students. The club aims to provide a safe space for undocumented students and allies, hosting meetings and events, such as Undocu-Mic and Conversations in the Dark, where undocumented students can express their feelings or doubts in a safe environment.
The team has also been working closely with the New York State Leadership Council since 2016, raising money for the Queens College Dream Team Scholarship, a scholarship which covers tuition for one undocumented student who wasn't eligible for DACA.
Guadalupe Muller, a senior majoring in urban studies and sociology, is an active member of the Queens College Dream Team and has been a part of DACA for six years. When it ended, she said she felt "very overwhelmed and afraid to travel outside of New York."
"I wanted to be with people who could connect with me after I heard the news," Muller said. "I went to a couple of rallies in the morning and I heard the announcement and it was very upsetting. I saw everyone's face change. I was frustrated and went to the Trump Tower, and I saw people getting arrested. It was emotional and affects people's lives; about 800,000 people had DACA."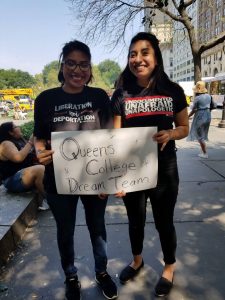 "Having DACA has affected me personally because I had a social security number and I knew I could travel without being stopped by police," Muller said. " I was supposed to go away with a family friend and drop her off at college by Niagara Falls but I didn't go because I didn't want to risk getting in trouble."
Chelsea Blackman, a graphic design major and vice president of the Queens College Dream Team, has a work authorization through DACA. The work authorization will now be ending in May 2018 due to the Trump Administration ending DACA. Blackman now fears for her future career.
"I've been personally affected by the end of DACA," Blackman said. "With DACA I was given the opportunity to work and pay my way through college, but now with my work authorization ending in May 2018, which is around the same time I would be graduating from Queens College, my future is uncertain."
"A lot of different organizations are reaching out as well, trying to get statements or collaborating with Dream Team in order to get the word out there that the undocumented community on campus isn't alone and that there is support everywhere," Blackman said. "It's delightful to have such a grounding support system."
DACA will no longer be taking new applicants, but anyone with a permit that expires by March 8 will have the opportunity to renew it for two years if application is done before the first week of October.
The Deferred Action for Childhood Arrival is an American immigration policy that was established by the Obama Administration in 2012. It helped minors under the age of 31 who came into the United States illegally gain legal status for two years—helping immigrants avoid deportation and obtain work permits. For new applicants to have been eligible for DACA, they must have entered the state before the age of 16, be under the age of 31 and have come to the United States without documents before June 5, 2012.
To have applied for DACA, applicants must also have a clean record and be a high school student or graduate.
Karsh Patel, an active member of the Queens College Dream Team and computer science major, used DACA to help pay for his college tuition, which helped him become hopeful of a future in America. When DACA ended, Patel said he started to question everything in America including his future and was overwhelmed with emotion.
"I was asking myself questions like 'should I even go to college to get my degree because I won't even be able to get a job in my field without proper work papers and social security number.'"
Queens College President Felix Matos Rodriguez expressed his opinion on DACA in a statement.
"I unequivocally reaffirm my support for Queens College and all CUNY students who find themselves at risk of deportation from a country that has benefited greatly from their academic achievements, multiple talents, and hard work," Matos said.  "Every day it is my privilege to witness the commitment of young women and men to building successful futures through education and the notion of tearing these students away from what is, in most cases, the only country they have ever known is not only heartbreaking, but family-breaking."
Students who wish to visit the Queens College Dream Team are encouraged to stop by their room in the Student Union, Lower Level 4.