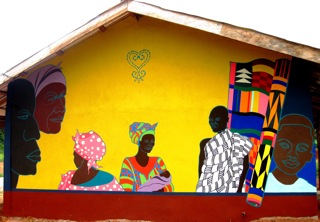 On her first and last trip to Ghana, Queens College art education professor Rikki Asher, experienced good and bad things, but both would ultimately make her appreciate what she has in life.
In the summer of 2011, Asher was invited to Kumasi, Ghana to paint a mural and attend a symposium to present an art education paper. The mural was to be painted on a small building that housed international artists in the village of Abetenim.
"The whole purpose of having this symposium was because the university in Kumasi was concerned that the local artists were not working with their traditional symbols…so this symposium was asking the question: how can we tap into the past to inform the present?" Asher said.
While in Abetenim, Asher discovered that someone had promised to donate money to build a school, but had never delivered the money.
Upon hearing this, Asher was devastated and looked to her colleagues at the symposium to donate about $25 to $30 each, so that they could jump start the building process and raise enough to build the school's foundation.
Unfortunately, money was tight and only the foundation and some walls were built.
After painting the mural, Asher came home, and discovered she had contracted malaria. But even then, her mind was on the incomplete structure back in Abetenim.
Upon her return, Asher got in contact with then QC Vice President Sue Henderson, who recommended that Asher speak with Jennifer Jarvis — now acting assistant vice president of student affairs — as she has worked with various organizations and campus initiatives to help get students involved.
After meeting with each other, Jarvis got in contact with students interested in taking on this initiative; the United Nations Children's Fund at QC enthusiastically took on the challenge.
"We brainstormed a bunch of different activities that we thought would be of interest to the campus community and would help generate money," Jarvis said.
With the realization that what they would be able to raise still wouldn't be enough, Asher once again reached out to Henderson to see if the college would match the amount of money raised.
The Ghana Project — as it is now called — is part of UNICEF at QC's charity initiative, meaning, that it is a separate project from UNICEF and is not associated with the club's budget or student activity fees.
The project set a goal of $2,000. One of their main programs to raise money was a 50/50 raffle in which the sale of raffle tickets leads to proceeds being split evenly between the winner and the organization. The winner of that 50/50 raffle was QC Student Union employee, Renison Telford, who ended up donated his winnings to the project.
Raising around $900 and change — instead of matching the amount, the college donated the difference to make an even 2,000.
On June 16, Jarvis mailed out the $2,000 which equaled 3,707.77 cedi — Ghanian currency. In August of this year, the school's construction was completed and classes began on Sept. 1.
"I was given the opportunity to make a difference in someone else's life and it was also a great opportunity to do something significant here at QC…it felt good and it was the right thing to do," Jarvis said.
UNICEF continues to fundraise for the school. On Sept. 23, they held a car wash and raised $148. Their main goal is to inform people about the project because not many know about it.
The Ghana Project is an ongoing fundraiser, and the people involved cherish it. UNICEF at QC plans to have more events where the proceeds will go to the project to buy school supplies.
"I want to keep continuing [the project] because they do rely on us. I don't want to abandon it and tell them that they're off on their own," Camille Acosta, president of UNICEF at QC said.
All of the people involved in the project agree, it's a good feeling giving back to others and it's definitely made them appreciate the things they have in their lives.
"It keeps me honest, it takes me out of the classroom and into the real world, it informs my teaching, makes me a better teacher and it fosters a deep appreciation of what I have," Asher said.