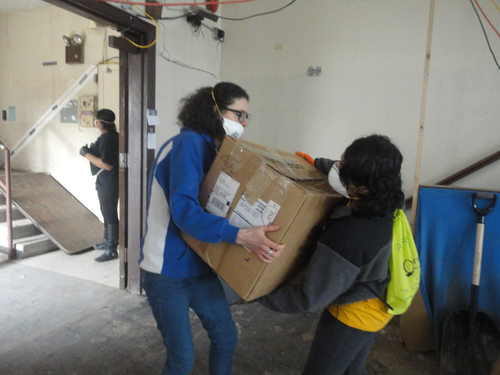 Students and school officials visited Far Rockaway from Jan. 4 until Jan. 13 to help victims of Hurricane Sandy because people in that area are still dealing with hardships months after the storm devastated regions of the city.
Among those who attended the fourth annual Service Learning Trip, which was funded by the school, were Judith Krinitz, assistant director of Student Life, and Emanuel Avila, coordinator of Judicial Affairs and Service Learning. The group, which included 11 students, resided in the Hampton Inn of Jamaica.
"This trip was different because at first we saw the victim's pain but at the end of the job we saw a ray of hope," Krinitz said. "In the past when we've volunteered and met an owner, that person is excited. In this case the home owner was devastated. But when we finished the job, the home owner saw a light at the end of the tunnel."
For example, the group learned on the second day of their trip that an affected home owner had just lost her father. When the group arrived she was making funeral arrangements.  The woman had also previously paid a contractor $7,000 but that worker failed to finish the job. The Queens College group, however, did.
"We finished the job and gave her peace of mind while she took care of her personal matters," Krinitz said. "After she finished, she inspected the job and could not stop hugging and thanking us. That's what made the trip amazing."
During the week, the students and faculty would leave the hotel at 9 a.m. and return at 4 p.m. They aided the victims of Hurricane Sandy by performing construction work, such as the taking out of floors and walls. In addition, they helped to clean up severely damaged basements.
A lot of heavy lifting took place at St. Gertrude's Church in Far Rockaway. The students helped to move heavy boxes and packages filled with necessary items such as food and clothing for the victims. The boxes were relocated from a room to an old gym in the church.
The trip was beneficial to the victims but obviously more work still needs to be done.
Avila said next year's Service Learning Trip might also be in Far Rockaway.