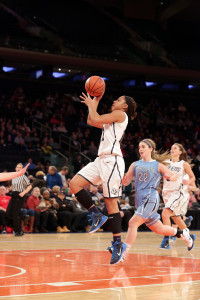 The 1000th point club is composed of the most remarkably talented and hard-working athletes in their respectable sport. This season Queens College women's basketball team added one athlete who continues to turn heads in her career as a Lady Knight—Madison Rowland.
On Feb. 18, Rowland scored her 1000th point as a sophomore. It is a milestone which takes most athletes a full four-year career to complete. She joins the list of amazing QC athletes such as Amanda Bartlett and Shonda Holder.
"I was so ecstatic after the game. To get 1,000 points is an amazing accomplishment and I am so excited about it," Rowland said.
Rowland is currently at 1,025 points after a magnificent 65-55 win against LIU Post on Feb. 21.
Rowland hit the ground running in her freshman year with a spot on the All Metropolitan Team and All East Coast Conference First Team. In addition, she received awards such as ECC Rookie of the Year and Defensive Player of the Year. Rowland also led all freshmen in the nation in scoring and one of 13 players in the nation to record a triple double.
In the 2013-14 season, Rowland set a school record for with 522 single season points and 122 steals.
Rowland is not the first in her family to excel in collegiate-athletics. Her mother ran Division I track at Boston University while her father led his team to a national championship while at SUNY Potsdam and later played in the NBA with the Milwaukee Bucks in the 1980s.
"My parents inspire me to be as great as they are in every part of my life. I would not be here right now if I didn't have parents as great as mine," Rowland said.
Madison is accompanied by her sister Mackenzie, who is also on the team. The dynamic duo share an unbreakable bond, which started after teaming together since second grade in youth CYO leagues continuing to college. Mackenzie Rowland could not be happier to see her sister excel.
"I'm so happy for my sister. I want her to become the best possible," Mackenzie Rowland said.
Madison Rowland's strength lies in her athleticism and difficulty she presents to her opponents attempting to guard her. In this season alone, she holds a season-high of 35 points, nine rebounds and seven steals in a win at Concordia as well as a remarkable performance at the Maggie Dixon Classic held at Madison Square Garden last month.
"She excels in cutting and reads the defense, as well as possessing quickness and ability to take open shots," Mackenzie Rowland told reporter Stephen Zerdelian.
Rowland's strong freshman statistics as well as her drive to win every time she laces up her sneakers, inspires others on the basketball whether on or off the court.
"Madison is a go-getter. Her competitiveness and determination motivates me to push myself. Even off the court she always knows how to make me laugh and so outgoing," Melissa Fumano, freshman and forward, said.
"I've looked up to Madison as a player even before I came to Queens,"
Despite the massive achievements, the striving sophomore still faces obstacles. Having sprained both ankles this season, it is difficult to play at a high tempo.
"Not only is it painful, but it makes me timid to play as aggressive as I normally would," Rowland said.
As the road to championships wraps up, the team is currently in second place in the ECC with an overall record of 17-6 and moved to 12-4 in conference play after the win against LIU Post.
"I am confident in my team. We're playing great basketball right now and I know we will do great in playoffs," Rowland said.