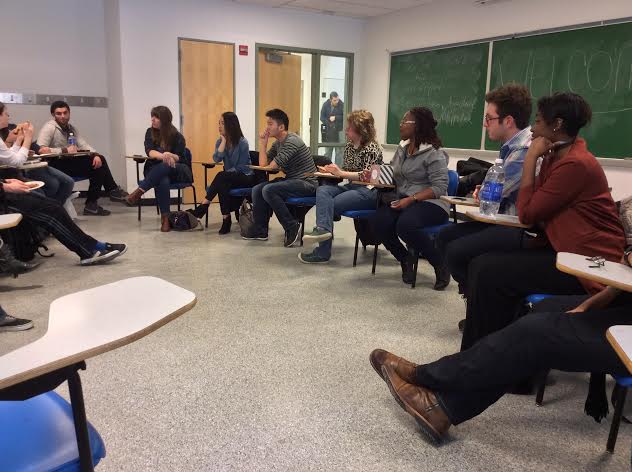 The Queens College Women's Center held an event called "Real Talk: College Dating" in which a diverse panel of college students talked about what dating and relationships mean to them on Feb. 25.
The event started off with introductions from Isioma Ononye, the secretary of the Women's Center and a senior English major, sitting in the front of the classroom along with nine other students on the panel.
"We are a community of girls who want to educate and empower members with discussions, seminars, lectures, community service and career workshops," said Ononye about the Women's Center.
She stressed that this room and event was a safe space and that everyone needed to be respectful to the people on the panel and what they said.
A question box went around the room and students in the audience were able to write their questions on a piece of paper that would be answered at the end of the panel.
The first topic was about the hook up culture. Ononye asked the panel whether it is possible to meet somebody in college and have a meaningful relationship or if it's more likely to meet people who are only interested in engaging in sexual activity.
"It all depends on the personality of the people involved, if you're interested in meaningful relationships you can find it," said Leah Goodman, a senior who is in a relationship. "I don't think it has to do with college as much as it has to do with people."
The next topic that was who approaches whom: guy or girl?
"A lot of the time we get in our own heads and you end up telling yourself no rather than them saying no and that's not really a good way to live," said Kurt Holness, a single graduate student.
A member of the audience asked the panel how this works in the gay community.
"If I like someone, I just go for it and give it a shot," said Ceara Olsen, currently in a relationship with a woman. "Men and women, we're all equal and if I could lesser the pressure and do it myself I think it's a nice gesture."
Anthony Hargraves, a senior who is gay and single, agreed with Olsen and said that if you like someone you should go for it.
"People feel that these particular gender roles are supposed to prescribe who says something to someone first," said Hargraves. "If you like someone you should let them know you're interested."
The next question for the panel was if physical attraction was a deal breaker.
"Initially, I would find someone appealing to my eyes first and their personality is the sun through the clouds," said Anastasia Neree, a single sophomore.
Lionel Yu, a senior in a long-term relationship with Victoria Tan, another panel member, said that physical attraction is not the only important factor.
"You're always attracted to the physical part but eventually you look past it," said Yu. "If you guys don't connect mentally, it means nothing at the end of the day."
Another topic was about sex and whether or not it's an important part of a relationship. The panel brought up topics such as sexual compatibility, cheating, pre marital sex and the emotional aspect of sex.
The event concluded with a reading of the questions in the question box. Tiffany Edwards, president of the Women's Center, read out the questions.
Some questions that the audience asked were, "How did you come out of the closet?" and "How do you feel about dating someone you don't see a future with?"
The entire event created an open forum for students to share their experiences and learn a little bit for future dating endeavors.