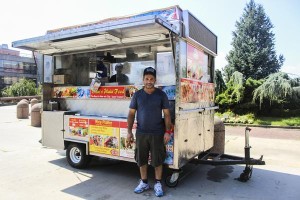 Shah's Halal Food is more accessible and successful than ever as one of its food trucks is now on The Quad.
The carts operate from 9 a.m. to 8 p.m. through the weekdays.
This high customer satisfaction is good news for Brahim Samer, an employee of the firm. Samer worked with the company for three years and is one of three employees working the cart on campus.
"There has definitely been an upturn in customer sales now that we're on campus," Samer said.
There is a monthly licensing agreement between QC and Shah's Halal Food where rent is paid to QC in return for a space on campus.
Another halal cart near QC, located on Kissena Boulevard, is also owned by Shah's Halal Food. Ahmed Hamid, another employee explained, although QC student sales at the Kissena are down, overall cart sales are still successful since his customers include not only people from QC, but commuters and workers.
The 11-year-old business owns multiple food trucks in New York City, but its presence now extends to The Quad to the delight of students.
"I find having the truck on campus makes it very convenient at lunchtime as long as they don't bump up the prices. It's definitely the opposite of an eyesore since the more halal on campus, the more eager I am to come to school," Nik Nicaj, junior, said.