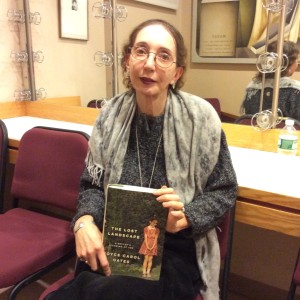 Joyce Carol Oates read from her latest memoir, "The Lost Landscape: A Writer's Coming of Age," on Nov. 10 at LeFrak Concert Hall for the Evening Readings Series.
"The Lost Landscape" is a memoir about her childhood and adolescence, exploring the world through the eyes of her younger self. It is her second memoir after the best-selling book "A Widow's Story."
The memoir shows Oates' life growing up on a small farm in upstate New York, where she made friends with a red hen named Happy Chicken. She reflects about her days with Happy Chicken, who disappeared the day the "town grandmother" took Oates to get a public library card.
Oates also writes about the mean schoolboys in her one-room schoolhouse, chronic insomnia growing up, tricky friendships and struggling Hungarian and Irish immigrant relatives. She talks about her sister, both severely autistic and unable to speak.
The author writes about her finding refuge in books. "Alice's Adventures in Wonderland" and "Through The Looking-Glass," both written by American author Lewis Carroll, influenced her growing up.
During a discussion with Leonard Lopate, host of the Evening Readings, Oates revealed she worked on the book for nearly 15 years.
"Editors would ask me specific questions like 'write about your first memory,' 'write about your first work,' 'write about your father' or 'write about your mother.' So overtime I had assembled a number of essays about different parts of my life. It occurred to me to put them all together and rewrite it and make it into a more coherent memoir," Oates said.
Lopate asked Oates whether anything bothered her about autobiographical writing. Oates said, over time, stories become less vivid.
Regardless, Oates found writing a memoir difficult in deciding what to focus on.
"When you look at a photo album of 200 photographs, you only select a few to show
people otherwise it's overwhelming," Oates said. "That's the first thing that is troublesome when writing a memoir because you have to select. You want to tell the truth and you want to put it all down, all the important things."
Oates then read the beginning of the book's introduction, revealing that she always planned her first chapter for years. Whenever she read it, she would feel a thrill and wanted to write more.
"We begin as children imagining and fearing ghosts. By degrees, through our long lives, we come to be the very ghosts inhabiting the lost landscapes of our childhood," Oates said.
Oates also wrote novels like "Them," "We Were the Mulvaneys," "Blonde" and "The Accursed." She also wrote a short story called "Where Are You Going, Where Have You Been." It loosely influenced a 1985 movie called "Smooth Talk" starring actors Laura Dern and Treat Williams.
The next Evening Reading will happen Dec. 16 with Zadie Smith. Admission to the event is $20, but free for those with a CUNY student ID.
For more information on the Evening Readings series, visit www.qcreadings.org.