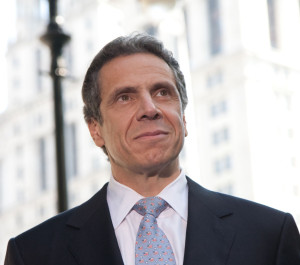 Earlier this year, New York Governor Andrew Cuomo's proposed executive budget included shifting nearly $500 million for CUNY from the state to the city.
While the lawmakers in Albany must decide on a new budget later this year, New York City did not account for the change in the proposed budget. In fact, New York City Mayor Bill de Blasio was informed about the change the night before Governor Cuomo unveiled his budget.
Cuomo and de Blasio are often seen as rivals despite being Democrats. The two disagree about issues like housing, funding for city programs and other policies.
CUNY is now a major issue between the city and state with the cut in funding denounced by those in and outside of CUNY.
The Democratic mayor held a press conference Jan. 14 denouncing not only the cuts in CUNY, but also cuts to Medicaid.
"There are two things in the budget that are not fair to New York City. That will be harmful to New York City, that will set us back and will particularly set back our students at CUNY," de Blasio said.
The state first assumed control CUNY during the 1970s amid a severe fiscal crisis. However, since the 1980s, funding for CUNY has declined. For Queens College, funding declined by at least 28 percent, according to a 2014 report by the Chronicle of Higher Education.
The Cuomo administration does not think the state should continue to give more to CUNY. It also believes the state and city government should reassess their relationship with CUNY.
One issue the Governor focuses on is funding for administrators. Jim Malatras, director of State Operations under Andrew Cuomo, wrote a letter to Chancellors James Milliken and Nancy Zimpher of CUNY and SUNY, respectively. He cited their six-figure salaries as excessive and unsustainable.
"As we are once again entering state budget season our administrations wants to be on record that both systems must reduce and justify administrative costs because every dollar of administrative overhead comes from the pocket of a struggling student or taxpayers," Malatras wrote.
But continued disinvestment in CUNY caused issues for students too. The Professional Staff Congress, the union representing more than 25,000 professors and staff, found Cuomo cut per-student funding by 3 percent since taking office. The union does not believe Cuomo can enact changes with such a drop.
"With the decline in per-student state funding at the senior colleges, such improvements have simply not been possible," Michael Fabricant, vice president of the PSC, said.
Furthermore, Milliken testified last month about the impact of cuts or "shifts" as he called it. He vowed not to see more cuts to CUNY, but offered two scenarios if it did happen.
"Numerous colleges, depending on how you did this, would have to be closed or you'd take a 30 percent decrease across the entire system," Milliken said.
The University Student Senate, where student officials from across CUNY meet, is urging the state to "fully fund CUNY by increasing public investment and also modernize the state's tuition assistance program to meet the needs of the 21st century student."
Even the board of trustees is frustrated with Cuomo. Peter Pantaleo, a trustee, resigned last month because there was no replacement for his seat.
Barbara Bowen, PSC president, defended the students and faculty of CUNY and criticized Cuomo's problems.
"PSC members are proud to stand together with students, faculty and staff from public colleges and universities across the state in defense of educational justice," Bowen said.
Bowen criticized Cuomo and his policies in regards to CUNY funding. She took the time to thank the state legislatures that are supportive of investing state funds in CUNY programs.
"Academic quality at CUNY has been put at risk by years of declining per-student funding under Governor Cuomo and now by a proposed cut of nearly half a billion dollars," Bowen said, "We thank the legislature for the support they have shown and their efforts to increase investment in CUNY."
Bowen appealed to Albany to do the right thing and support investment in CUNY.
"We call on Albany to make the moral choice: don't deny thousands of New Yorkers their one shot at a better life. Restore CUNY funding, and invest in CUNY students, faculty and staff," Bowen said.