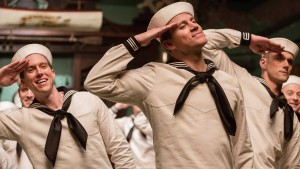 Hollywood in the 1950s was the dream factory that provided the American public with entertainment, escape and hope.
This is found in "Hail, Caesar!" as it features a colorful cast of Hollywood character and funny parodies of 1950s movies that contrast with the stars behind the camera.
The film, directed by the famous Coen Brothers, contains the snappy comedic dialogue, quirky characters and philosophical messages that make the duo's movies lovable.
Eddie Mannix, played by Josh Brolin, is a Hollywood executive and spin doctor for actors. He helps any actor with personal problems that may hurt their career.
Mannix works on this because of the environment at the time. Any link with communism or homosexuality means public rejection or worse—blacklisted from films.      The way Mannix organizes the lives of actors' public lives is amusing. He controls every aspect of a star's life, from dating to marriage. For example, when an actor gets pregnant from an extramarital affair, Mannix makes her adopt the child. His actions behind the scenes make Hollywood seem magical.
The film's main problem happens with famous actor Baird Whitlock, played by George Clooney, starring in an expensive film about a Roman general enlightened after meeting Jesus.
Whitlock is kidnapped by a group of communists calling themselves The Future. The group do not hold Whitlock against his will, but convince him about the evils of capitalism.
Though the plot is straightforward, there are movies happening in the movie. These cutaways of genres show Roman epics, synchronized swim ballets, low-budget westerns and other manufactured realities by Hollywood. Intended as parodies, they offer an interesting perspective of Hollywood.
But the fantasy of the films end when the director calls cut. "Hail, Caesar!" even shows how pitiful humans can create movies that are sometimes corrupt and not real.
For instance, Whitlock, in character as the Roman general, delivers a monologue that brings everyone on the set to tears. But Whitlock forgets his lines, and all of his other Roman soldiers break character.
Even for an audience member, Whitlock's speech feels believable and all his character flaws are forgotten.
However, despite what the film does right, there are scenes that aren't as entertaining as others. This might affect viewers not familiar with Joel and Ethan Coen's previous films and ambiguous, yet deliberate style found in works like "The Big Lebowski."
But "Hail, Caesar!" is a film that is both comical and thoughtful. The Coen Brothers' mastery is obvious, and the scenes that work well are entertaining and detailed.
The duo's new film have felt dull at some parts, but it is a funny movie carrying commentary on the belief of believing.