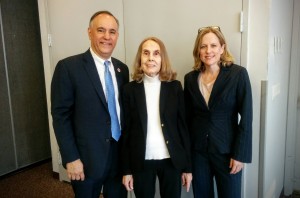 Students and professors of Queens College gathered March 21 for the Virginia Frese Palmer Women and Gender Studies conference on the fourth floor of the Student Union.
The event was held in honor of Women's History Month. Seven panelists— officials, professors, activists and authors—shared their experiences, beliefs and aspirations about different topics. Some of the topics covered included race, independent, equality and feminism.
Queens Borough President Melinda Katz, a Democrat, began the conference with a speech about her personal opinions and experiences in office as a woman.
"The next generation needs to be helped. The next generation needs to understand where we've come from in order to get ahead even further. So when a woman runs for president, it's no big deal. So when an African American runs for president, it's no big deal," Katz said.
Political Science Professor and Senior Scholar at the Center for American Women and Politics Kira Sanbonmatsu discussed the statistics, stereotypes and demographics of women in office.
"It takes a lot more initiative to get women into office as opposed to men. Men make up 88 percent of governors in the United States. However, more women of color are holding state legislative office today [and they are] breaking the barriers," Sanbonmatsu said.
Councilmember Inez Barron, a Democrat, worked against civil and human injustices and promoted issues from public health to affordable rent. These topics were important for electing women to office, explained Barron.
"We've got to remember that it's not just about the race or the gender, but it's about the character of the person that you're putting in office," Barron said. "Is it someone who really understands that this is a position of service to help elevate all people?"
Barron encouraged individuals to speak up and fight for what they believe.
"Your voice is very important. Speak out even if you're in the minority of one or two people," Barron said.
Inspirations, like Shirley Chisholm, were brought up by several panelists. Nichola Gutgold, author and Professor of Communication Arts and Sciences at Penn State, discussed her other inspirations and topics mentioned in her books.
"We still have difficulty in our country when it comes to women and power. When more women run, it will become less remarkable for them to go against each other. Appearance and qualifications are always in the spotlight when it comes to women. Women have to confront lookism," Gutgold said.
Differences among genders, along with equality, was a frequent topic among the panelists.
Rep. Carolyn Maloney, a Democrat, became the first woman to represent New York's 12th congressional district, which covers parts of Queens, Brooklyn and Manhattan. She helped pass legislation that targeted the demand side of sex trafficking, created annual mammograms for women on Medicare and provided funding to process DNA rape kits.
Maloney spoke about gender equality, feminization, discrimination in paychecks and discrimination against women.
"The equal rights amendment that men and women should have equal opportunity under the laws of our great country hasn't been able to move. I think that shows you something that is deep and strong that there is discrimination against women. From where I come from, I never thought that I would see a woman taken seriously for president [and], much less, have a real degree of probability of becoming president," Maloney said.