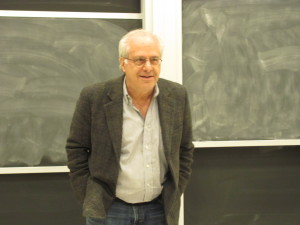 In the 1950s, Jose Maria Arizmendiarrieta, a Catholic priest living in Mondragon, Spain, felt frustrated traditional businesses did not come to provide jobs for workers.
In response, he recruited five workers to create a worker cooperative, or a business run only by workers.
Sixty years later, the business, now called the Mondragon Corporation, employs over 70,000 employers and includes over 250 companies. It makes millions of dollars each year—and is still led by workers.
This story was shared by Richard Wolff, an economist, who spoke about capitalism and alternatives to it at Kiely Hall 264 on March 21.
"The problem in this society is that we don't have an economic system that works anymore," Wolff said.
Wolff explained that the rise of capitalism helped the U.S. grow for its first 200 years. Cities like Detroit were shown as the success of the system.
But Wolff said capitalists did not increase wages for workers starting in the 1970s. This led to major problems, like more working hours and debt for citizens.
"American capitalists have abandoned the United States. They've been doing it for 40 years. They're moving, [and] they're gone," Wolff said.
However, Wolff noted wealth still grew during those four decades. The problem was that workers never received it and were told there was "no money."
"There's no shortage of money in the United States, we're as rich as we've ever been," he said. "But the money is in hands of the people who run the economy. They don't want to spend it on your education, the fire department or social work."
Wolff highlighted how capitalism developed with the support of government, from the rise of slavery to the use of tax breaks among large corporations.
"Government has helped capitalism every step of the way," he said.
Wolff recommended worker cooperatives as a way to bring democracy back to workers and as a solution to the problems of capitalism.
"The workers together can decide what to produce, how and where to produce it and what to do with the profit," Wolff said.
Wolff then took questions from the audience of many students. He highlighted the only way to make sure worker cooperatives would come from the workers.
"You have to have a social movement behind [worker cooperatives]," he said.
Student Organization for Democratic Alternatives organized the event. Michael Devan, a member of SODA, felt satisfied with the event's message for students.
"I think part of what I liked most about it was that he placed the solution in the hands of students. It really spoke to the core of SODA's mission in that way," Devan said. "Too often, these discussions about our sociopolitical and economic institutions will omit any mention of a tangible alternative in the end."
Devan, a senior majoring in philosophy and political science, said Wolff explained the way to make worker cooperatives in society.
"I always tell people that the cooperative model–where workers collectively share the ownership of a business in accordance with the principle of one person, one vote–is not some far off, abstract idea," he said. "The cooperative model, as Wolff helped illustrate, is already a very real, global movement."