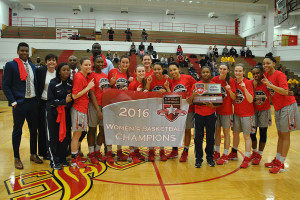 The women's basketball team made history with a 76-64 victory over Holy Family in the first round of the 2016 NCAA Division II East Regional on March 13 at Bentley University.
It was the team's third appearance and first victory in the NCAA tournament. Junior Madison Rowland scored 31 points, including 20 in the first two quarters, six rebounds, four steals and three blocks.
Head coach Elizabeth Naumovski won 20 games for the third consecutive season. She felt proud of her team's performance.
"We knew we could do it, but knowing you can do something and actually doing it are two different things. It's easy to get overwhelmed in that moment of being in the NCAA tournament. You're in a position every college and athlete wants to be in," Naumovski said.
Five days before the tournament, the team clinched their second consecutive East Coast Conference Championship after defeating Roberts Wesleyan 60-54.
Madison, along with her sisters Mackenzie and Merrick Rowland, led the Knights to victory. MacKenzie Rowland, a senior, scored 16 points and 19 rebounds. Merrick Rowland, a sophomore, scored 13 points.
"I think being in that game last year where we had to comeback from a 15-18 point deficit to win the championship helped the confidence. Part of the reason we were able to grind out the win was because we were able to defend. We feel as long as we can defend and rebound, that we have a good chance of winning the game," Naumovski said.
The Knights season lost 77-67 against Bentley in the semifinals of the NCAA Division II East Regional Tournament. The team completed the 2015-16 campaign with a 21-9 record.
For seniors MacKenzie Rowland, Kristen Korzevinski, Elisabeth Gully, Joya McFarlane and Amber Harrison, this was their final game as a Knight. Naumovski said it was a bittersweet moment.
"They have been a key to the growth of the program and the level of success we've had. After that game it was an emotional goodbye, but they are players I know I'm going to stay in touch with because that is my coaching style," Naumovski said.
Despite the loss, what stood out to the coach was the way they handled their final game.
"Although we were disappointed, they were more proud of their careers and how far they have brought this program. That's exactly what I want them to feel. They don't have any regrets, they've put it all on the floor for four years and more than anything they feel accomplished. So they're leaving on a high note," she said.
Gully felt sad that her career ended, but was also proud of what she accomplished with the team.
"I was very proud to put on my Queens Uniform for one last time. It really has been an honor to be able to represent
Queens for the last four years and the fact that I was able to represent QC as a senior in the NCAA tournament is one of my proudest moments," Gully said.
Her favorite part of playing for the team wasn't scoring points or playing in the Madison Square Garden, but the unity of the team.
"Definitely the bound I've made with my team. We've become family, and I really don't know what I'd do without them," she said.
Madison Rowland continued her impressive career by completing a strong season leading the ECC by scoring 20.2 points per game. She led the ECC and the nation in steals with 4.52 per game and almost averaged a near double-double with 9.6 rebounds per game.
Naumovski was impressed by Madison Rowland's accomplishments.
"I do think she's the best player in the conference. She's a great athlete and player, but the thing that makes her special is her ability to lock in and focus in a game and understand what needs to get done. [Madison] just wants to win more than anything," Naumovski said.
Naumovski is optimistic about next season and looks forward to taking the team back into the NCAA.
"I don't think that next year is a rebuilding year, it's a transition year. Madison is back and she is a key part of the team and has the ability to make the [players] around her better. A transition year is more about building chemistry with the new a group a people," she said.