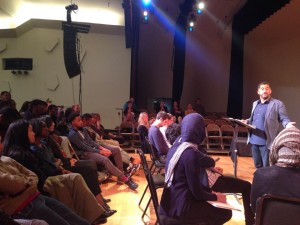 Students joined actors on Oct. 16, for a participatory play called "Mosque Alert" at the Kupferberg Center.
"Mosque Alert" is about the construction of a new mosque in Naperville, Ill, which led to conflicts between two families of different religions. The two families learn more about each other and eventually put their differences aside.
The cast consisted of actors such as Noam Ash, star of YouTube's "My Gay Roommate."
"The creation of these characters really grew out of a development process," Jamil Khoury, the play writer, said. "We started looking into this broader issue of the resistance of building mosques across the US."
The play began with each character's backgrounds and belief systems. Mostafa Khalil, along with his wife Aisha Khalil and their children, advocates for the construction of the mosque. In contract, Daniel Baker, the antagonist, rejects it and creates a website called Mosque Alert in response. His niece and nephew, already friends with the Khalil family, disagree with the creation of the site.
The climax of the story occurs at a town hall meeting where both families figure out what is the best decision for the city. Ultimately, Baker resolves his differences and the mosque is built.
"They touched on a lot of topics about discrimination and obviously I've experienced all those things. Whenever anything like that happens, I wonder is it whether I'm Muslim, a woman [or] black? What is it? What are you going to choose?" Yasmin Mohammed, a freshman, said.
Khoury noted the difficulty in creating the play and the time dedicated to create the story.
"I started creating six characters that grew into 11 through an online process where we would tape video logs. Direct talk to the camera, learning about characters, conflict scenes, dynamics, relational backstories. We asked people for feedback, input, asking about connection what to add and so on to build. It's been a somewhat a non-traditional process," Khoury said.
Additionally, Khoury liked the "civic engagement component" to the play. He wanted to create conversations about the issues portrayed in the play and how it ties to other problems related to discrimination.
"It was a beautiful experience. I was sitting here in the corner, my script in my lap, doing more cuts and changes and I can feel you guys in such a wonderful way. For a playwright, it's an exhilarating feeling. A lot of people are leaning forward, they're very attentive and just engaged. You guys are like a dream," Khoury said.
Khoury and the cast ensured the audience understood Islamophobia and the importance of keeping an open mind on similar issues.
"To have a high school class making the connections that they made and analogies to their own lives is very exciting and very encouraging," Khoury said. "Islamophobia is so salient, so in trend and so deep in this culture."
The final edition of the play will be performed at Silk Road Rising in Chicago next April. The cast will feature QC students performing alongside professional actors.